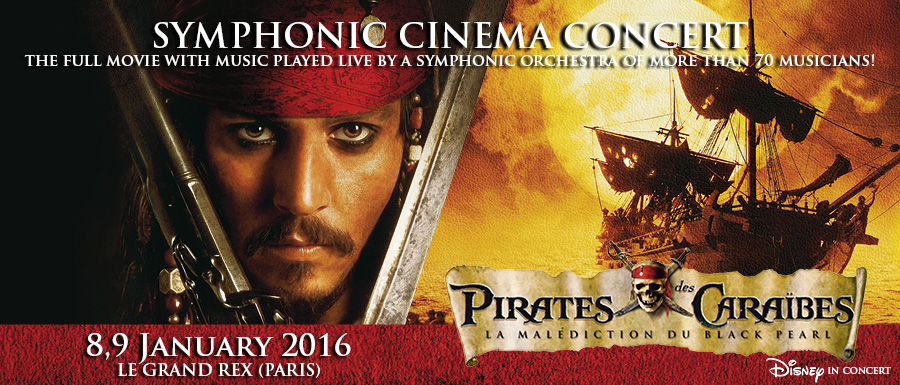 The concert
We are honored to announce that the cinema concert of "Pirates of the Caribbean: the Curse of the Black Pearl" is coming to the Grand Rex in Paris on 8 (in English with French subtitles) and 9 (in French/ 3pm and 8pm) January 2016. A unique opportunity to rediscover on big screen the thrilling adventures of Captain Jack Sparrow and his crew, while a symphony orchestra simultaneously perform on stage the electrifying and epic score of the sensational blockbuster from Disney and Jerry Bruckheimer : "Pirates of the Caribbean : the Curse of the Black Pearl".
This legendary soundtrack will be performed in live, alongside the movie and its dialogs, by a full symphonic orchestra of more than 70 musicians. They will pay a tribute to the enchanting and lively score composed by Klaus Badelt based on Hans Zimmer's themes. See what it looks like here:
This fascinating runaway hit tells the story of an upstanding young blacksmith (Orlando Bloom) who enlists the help of an eccentric, dishonest pirate (Johnny Depp) to rescue the beautiful young woman (Keira Knightley) with whom he is in love and who has been kidnapped by cursed, undead pirates. This swashbuckling adventure is not to be missed!
Tickets available now!
Tickets are already available in the usual sales outlets:
Our official shop with preferential prices: http://www.wildfaery.com/shop/en/
France Billet Network: www.fnacspectacles.com and retailers such as Fnac, Carrefour, Géant, etc.
Ticketmaster: http://www.ticketmaster.fr and retailers such as Leclerc, Cora, Auchan, etc.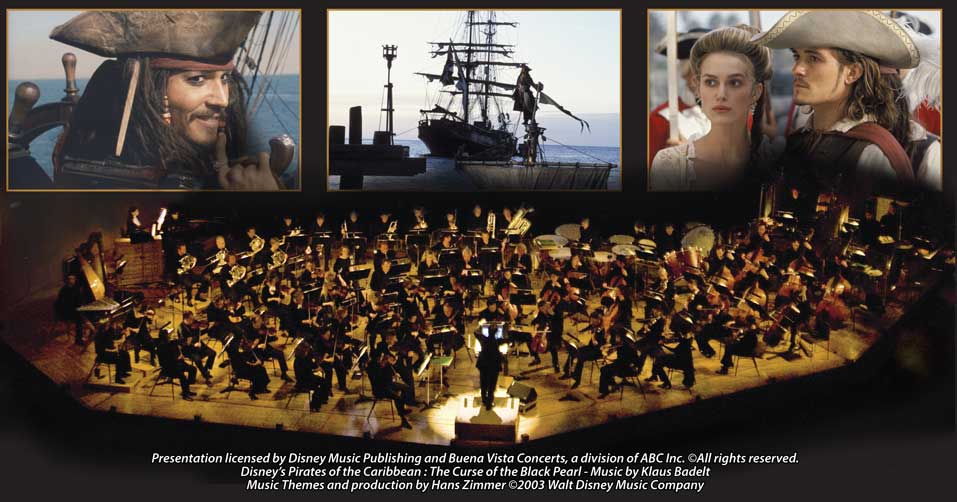 The Venue
Le Grand Rex : Just nearby the Opera Garnier, the Grand Rex is one of the most charming and oldest concert venues in France. Built in 1893, the Grand Rex is an historic venue in Paris which offers every year the premiere of the latest Disney movie, a 30 year-old tradition. It has also welcomed international guests such as Sheryl Crow, BB King or even Joe Satriani and also major event such as Disney's "Magic Show" or "Frozen" show.

Address : 1 Boulevard Poissonnière, 75002 Paris (France)
Phone : +33 (0)1 45 08 93 89
Website : www.legrandrex.com
Subway Station : Bonne Nouvelle (Lignes 8 et 9)