KINGDOM HEARTS Orchestra-World Tour- Encore! The official KINGDOM HEARTS video game concert series goes back on tour starting June 2018. The acclaimed world-class quality orchestral performances will thrill tens of thousands more fans around the globe!
After celebrating the 15th anniversary of the KINGDOM HEARTS video game series in major cities with the launch of the first-ever official orchestral concert tour in 2017, the KINGDOM HEARTS Orchestra - World Tour - concert series will be back on the road for a second wave of worldwide performances starting June 2018.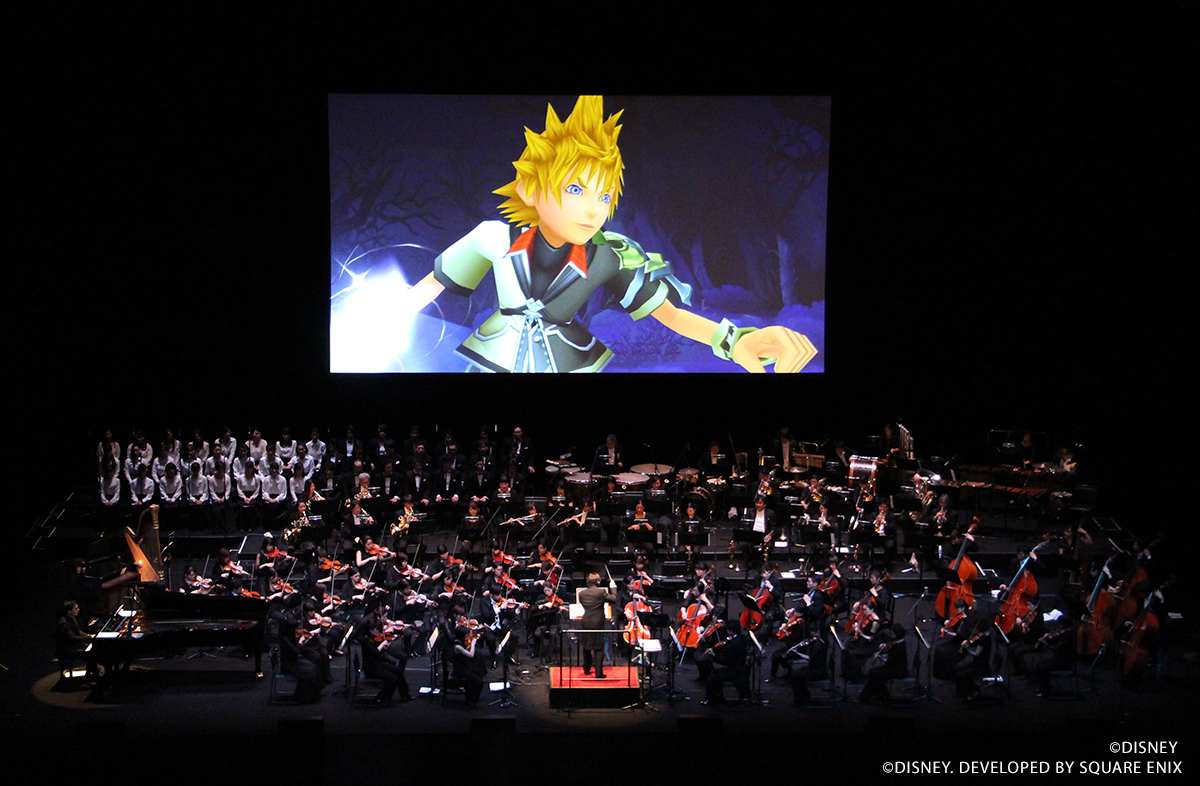 Before celebrating the upcoming KINGDOM HEARTS III video game with a renewed show for 2019, more cities around the world will have the chance to discover for the first time the acclaimed concert produced under the supervision of game director Tetsuya Nomura himself, and with music program supervised by original composer Yoko Shimomura. The show will Premiere in 2018 in places where it is long awaited, such as Canada, Australia, Germany, Italy, and numerous US cities. After performances at the Dolby Theatre in Los Angeles (the venue of the Academy Awards©), Salle Pleyel in Paris (home of the Cesar), the Central Hall Westminster in London and the Forum A in Tokyo, the show will travel in 2018 to more prestigious venues such as the Sydney Opera House, the Gasteig in Munich, the KBS Hall in Seoul, and the Auditorium Theatre in Chicago.
Look out for fan reactions on Twitter: #KhOrchestra
SCHEDULE AND TICKETING INFORMATION
Tickets will be available for pre-sale purchase in selected cities starting March 4, 2018 at shop.wildfaery.com (from 12pm local time of each city). Public on sale will then start from March 13, 2018. Check update and latest news at the official Facebook page kh.wildfaery.com
Los Angeles (USA) – June 9, 2018 – Dorothy Chandler Pavilion
Sydney (Australia) – July 7, 2018 – Sydney Opera House
Chicago (USA) – July 13, 2018 – Auditorium Theatre
Detroit (USA) – July 14, 2018 – Fisher Theatre
Pittsburgh (USA) – July 16, 2018 – Heinz Hall
Boston (USA) – July 19, 2018 - Wang Theatre  
Toronto (Canada) – July 21, 2018 – Sony Centre
Atlanta (USA) – July 26, 2018 – Fox Theatre
Dallas (USA) – July 28, 2018 - Verizon Theatre at Grand Prairie
Philadelphia (USA) – August 2, 2018 – Mann Centre
Phoenix (USA) – August 4, 2018 – Symphony Hall
Las Vegas (USA) – August 5, 2018 - The Joint at Hard Rock Hotel & Casino
Honolulu (USA) – August 12, 2018 - Neal S. Blaisdell Concert Hall
Sao Paolo (Brazil) – September 8-9, 2018 – Teatro Bradesco
Munich (Germany) – September 15, 2018 - The Gasteig
Milan (Italy) – September 22, 2018 – Teatro Dal Verme
Seoul (South Korea) – October 6, 2018 – KBS Hall
Mexico City (Mexico) – October 20, 2018 – Auditorium Blackberry
Keep in touch by subscribing to the official tour Facebook page: http://kh.wildfaery.com
ABOUT KINGDOM HEARTS Orchestra – World Tour
Uniting the worlds and characters of FINAL FANTASY and Disney to create a brand new thrilling mythology, KINGDOM HEARTS follows the adventures of Sora, Goofy and Donald as they rescue their friends and the whole world. With two major games, KINGDOM HEARTS I and II, released on PlayStation 2 (and re-released in HD on PlayStation 3 and PlayStation 4), and six spin-off games over multiple platforms, the saga has touched millions of fans around the globe. KINGDOM HEARTS Orchestra- World Tour- is the first-ever official concert world tour of the saga, celebrating the fifteenth anniversary of the multi-million selling video game series and the upcoming release of its latest episode.
Music composer Yoko Shimomura (Legend of Mana, Parasite Eve, Street Fighter II and Xenoblade Chronicles) lends her fantastic composition, which has long played a prominent role in KINGDOM HEARTS. The soundtrack features hit songs from Japan's best-selling pop artist, Hikaru Utada.  The single Hikari, from KINGDOM HEARTS I, ranked #1 on the Oricon, the Japanese records sales chart for weeks, was 2002's tenth best-selling single and certified Double-Platinum by the RIAJ (Recording Industry Association of Japan). The single "Passion" from KINGDOM HEARTS II was also certified Gold Disc.
KINGDOM HEARTS Orchestra –World Tour- Exclusive Features :
1- Composer Yoko Shimomura in Attendance (Select Cities Only)
Select shows will feature music composer Yoko Shimomura as a special guest. She will appear on stage, and 100 VIP tickets are available for each show to meet and greet with her after the performance (one signature and one photo per person). Yoko Shimomura will appear for a limited number of shows due to a busy schedule. Check the schedule above for appearance information.
2- Exclusive Merchandising Lineup
The KINGDOM HEARTS Orchestra – World Tour – features an exclusive line of products that are only available for sale at each performance. A stunning 48-page concert program will be available featuring the first-ever cross-interview between director Tetsuya Nomura and composer Yoko Shimomura, along with many music notes and gorgeous illustrations.  In addition to the program, fans will find an official T-shirt with an original illustration of Sora's Chief Conductor Keyblade with a stand in a deluxe box, as well as an elegant pouch and a cardholder.
3- Special-Edition CD
Twelve pieces from the concert have been recorded in their unique concert's arranged version for a special-edition CD, with a gold-embossed package. Fans can relive their experience at the concert from the comfort of their home after the show!  
 
ABOUT KINGDOM HEARTS
Directed by Tetsuya Nomura, and developed jointly by Disney and Square Enix, the first KINGDOM HEARTS video game was released on March 28, 2002 on PlayStation 2. Now with over 25 million copies sold over 8 games and multiple platforms, the series has received worldwide acclaim. While the main protagonist, Sora, travels alongside Goofy and Donald, players can expect to meet more than 100 Disney characters and worlds (Beauty and the Beast, Hercules, Aladdin, The Lion King, Snow White, Sleeping Beauty, The Little Mermaid, The Nightmare Before Christmas and more) and numerous heroes and villains from the FINAL FANTASY video game franchise.  The mobile game KINGDOM HEARTS Union χ[Cross] for Android and iOS allows players to uncover story elements from the earliest part of the series' history, as well as from the highly anticipated, upcoming KINGDOM HEARTS III for Xbox One X and the PlayStation 4.
Discover KINGDOM HEARTS 2.8 here: https://youtu.be/Sfw_r1UCPs0
See how Disney Characters and FINAL FANTASY Cameos Worlds connects in this trailer: https://youtu.be/55JvbOAVXA4
ABOUT DISNEY CONCERTS
Disney Concerts is the concert production and licensing division of Disney Music Group, the music arm of The Walt Disney Company.  Disney Concerts produces concerts and tours, and licenses Disney music and visual content to symphony orchestras and presenters on a worldwide basis.  Disney Concerts' concert packages include a variety of formats, such as "live to picture" film concerts and themed instrumental and vocal compilation concerts, and range from instrumental-only symphonic performances to multimedia productions featuring live vocalists and choir.  Current titles include the Star Wars Film Concert Series (Episodes IV-VII), Beauty and the Beast, The Little Mermaid, Fantasia, Pixar In Concert, The Nightmare Before Christmas, Alice In Wonderland, Frozen, Ratatouille, The Pirates of the Caribbean series (Episodes I-IV), and Silly Symphonies, which last year collectively accounted for over 400 performances in many of the world's top concert venues, including Lincoln Center, Royal Albert Hall, Sydney Opera House, Tokyo Forum and the Hollywood Bowl. Numerous new concert packages and touring productions from Disney's portfolio of studios, including Disney's feature animation and live action studios, Pixar, Lucasfilm and Marvel, are currently in development.   
ABOUT DISNEY CONSUMER PRODUCTS AND INTERACTIVE MEDIA
Disney Consumer Products and Interactive Media (DCPI) is the business segment of The Walt Disney Company (NYSE:DIS) that brings the Company's stories and characters to life through innovative and engaging physical products and digital experiences across more than 100 categories, from toys and t-shirts, to apps, books and console games. DCPI comprises four main lines of business: Global Licensing, Disney Retail, Publishing and Digital Media, and Games & Interactive Experiences. The segment is home to world-class teams of app and game developers, licensing and retail experts, a leading retail business (Disney Store), artists and storytellers, and technologists who inspire imaginations and bring the magic of Disney into the daily lives of families and fans around the world.
ABOUT SQUARE ENIX
Square Enix, Inc. develops, publishes, distributes and licenses SQUARE ENIX®, EIDOS® and TAITO® branded entertainment content throughout the Americas as part of the Square Enix group of companies. Square Enix, Inc. is affiliated with a global network of leading development studios such as Crystal Dynamics® and Eidos Montréal. The Square Enix group of companies boasts a valuable portfolio of intellectual property including: FINAL FANTASY®, which has sold over 135 million units worldwide; DRAGON QUEST®, which has sold over 75 million units worldwide; TOMB RAIDER®, which has sold over 63 million units worldwide; and the legendary SPACE INVADERS®. Square Enix, Inc. is a U.S.-based, wholly-owned subsidiary of Square Enix Holdings Co., Ltd. More information on Square Enix, Inc. can be found at http://na.square-enix.com/.
Photos and Visuals:
©Disney
©Disney.Developed by SQUARE ENIX