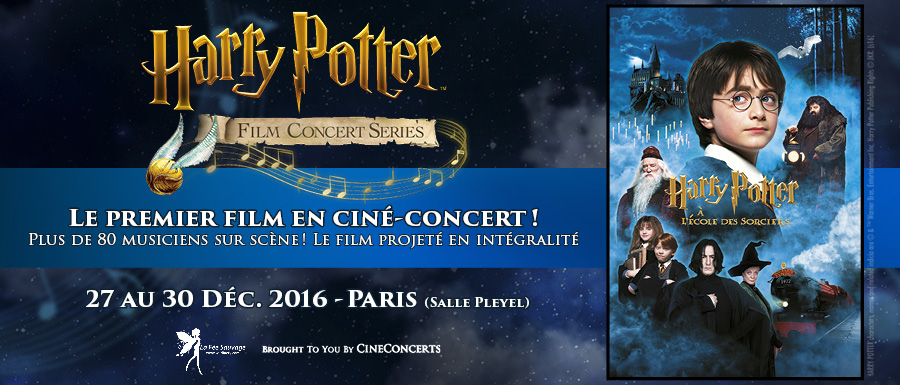 For the first time ever in France, audiences will experience a symphony orchestra performing music to the entire film from one of the most beloved film franchises in history
More than 80 musicians on stage for a spectacular film concert!
Film screened on a giant screen with original dialogues and French subtitles.

(August 28th, 2016) – La Fée Sauvage is pleased to announce today that a symphony orchestra of more than 80 musicians will perform Harry Potter and the Philosopher's Stone from December 27th to 30th, 2016 as part of the Harry Potter Film Concert Series. The concert will feature the live symphony orchestra performing, to picture, every note from Harry Potter and the Philosopher's Stone.  Audiences will be able to relive the magic of the film in high-definition on a 40-foot screen while hearing the orchestra perform John Williams' unforgettable score. Tickets go on sale at shop.wildfaery.com on September 1st, and all usual outlets from September 4, 2016 (Fnac, Carrefour, Auchan, Leclerc).
CineConcerts and Warner Bros. Consumer Products announced the Harry Potter Film Concert Series, a new global concert tour celebrating the Harry Potter films, earlier this year.  The Harry Potter Film Concert that kicked off in June 2016 is another magical experience from J.K. Rowling's Wizarding World.   
Justin Freer, President of CineConcerts and Producer/Conductor of the Harry Potter Film Concert Series explains, "The Harry Potter film series is one of those once-in-a-lifetime cultural phenomena that continues to delight millions of fans around the world. It is with great pleasure that we introduce for the first time ever an opportunity to experience the award-winning music scores played live by a symphony orchestra, all while the beloved film is simultaneously projected onto the big screen. It will be an unforgettable event."
Brady Beaubien of CineConcerts and Concert Producer for the Harry Potter Film Concert Series added, "Harry Potter is synonymous with excitement around the entire world and we hope that by performing this incredible music with the full movie, audiences will enjoy returning to this world, and to the many wonderful characters and adventures that inhabit it."
 
CineConcerts is one of the leading producers of live music experiences performed with visual media. Founded by producer/conductor Justin Freer and producer/writer Brady Beaubien, CineConcerts has engaged millions of people worldwide in concert presentations that redefine the evolution of live experience. Recent and current live concert experiences include Gladiator, The Godfather, It's a Wonderful Life, DreamWorks Animation In Concert, Star Trek: The Ultimate Voyage 50th Anniversary Concert Tour, and Breakfast at Tiffany's. Justin Freer has quickly become one of the most sought-after conductors of film music with a long list of full symphonic live to projection projects.  He has appeared with some of the world's leading orchestras including the Chicago Symphony Orchestra, London Philharmonic Orchestra, New York Philharmonic, Philadelphia Orchestra, Philharmonia Orchestra, San Francisco Symphony and Sydney Symphony Orchestra. From full-length movie screenings with live orchestra to music-interactive sporting event experiences to original 3D-environment holiday programming, CineConcerts is at the forefront of live entertainment.
For more information on the Harry Potter Film Concert Series, please visit www.harrypotterinconcert.com.
The Composer : John Williams
In a career that spans five decades, John Williams has become one of America's most accomplished and successful composers for film and for the concert stage. Mr. Williams has received a variety of prestigious awards, including the National Medal of Arts, the Kennedy Center Honor, the Olympic Order, and numerous Academy Awards, Grammy Awards, Emmy Awards and Golden Globe Awards. Mr. Williams has composed the music and served as music director for more than one hundred films.  His 40-year artistic partnership with director Steven Spielberg has resulted in many of Hollywood's most acclaimed and successful films, including Schindler's List, E.T. The Extra-Terrestrial, Jaws, Jurassic Park, Close Encounters of the Third Kind, the Indiana Jones films, Saving Private Ryan, Amistad, Munich, Hook, Catch Me If You Can, Minority Report, A.I. Artificial Intelligence, Empire of the Sun, The Adventures of TinTin and War Horse.  Their latest collaboration, The BFG, was released in Summer of 2016.  Mr. Williams composed the scores for the first three Harry Potter films, all seven Star Wars films, Superman, JFK, Born on the Fourth of July, Memoirs of a Geisha, Far and Away, The Accidental Tourist, Home Alone, Nixon, The Patriot, Angela's Ashes, Seven Years in Tibet, The Witches of Eastwick, Rosewood, Sleepers, Sabrina, Presumed Innocent, The Cowboys, The Reivers and Goodbye, Mr. Chips among many others.  He has worked with many legendary directors, including Alfred Hitchcock, William Wyler and Robert Altman.  
The Chief Conductor: Justin Freer
American composer/conductor JUSTIN FREER has established himself as one of the West Coast's most exciting musical voices and has quickly become a highly sought-after conductor and producer of film music concerts around the world. Major League Soccer called upon Freer to compose and conduct music for the 2011 and 2012 Major League Soccer Championship Cups in Los Angeles, CA. He has served as composer for several independent films and has written motion picture advertising music for some of 20th Century Fox Studios' biggest campaigns including Avatar, The Day the Earth Stood Still, Dragonball Evolution and Aliens in the Attic. As a conductor Freer has appeared with some of the most well known orchestras in the world including the Chicago Symphony Orchestra, London Philharmonic, New York Philharmonic, Philadelphia Orchestra, Philharmonia Orchestra, San Francisco Symphony, St. Louis Symphony and Sydney Symphony Orchestra. In upcoming seasons he will guest conduct the Minnesota Orchestra as well as the orchestras of Chicago, Dublin, London, Paris, Philadelphia, San Francisco, Sydney, Toronto and others.
HARRY POTTER characters, names and related indicia are © & ™ Warner Bros. Entertainment Inc. J.K. ROWLING`S WIZARDING WORLD™ J.K. Rowling and Warner Bros. Entertainment Inc. Publishing Rights © JKR. (s16)