Celebrating the launch of KINGDOM HEARTS III at the end of January 2019, the KINGDOM HEARTS Orchestra concert series will be back on tour with a brand-new program, KINGDOM HEARTS  Orchestra -World of Tres-, starting April 27, 2019 with 22 performances in 17 cities around the world. Acclaimed by more than 80,000 spectators over the past two years, it will enchant even more people with its unforgettable score and new thrilling video sequences in an unprecedented experience that is not to be missed. With giant screen video projection in perfect harmony with the music being played by a top-notch orchestra and choir of more than 100 musicians, the show will continue to bring passion to the millions of fans of the long-running video game series.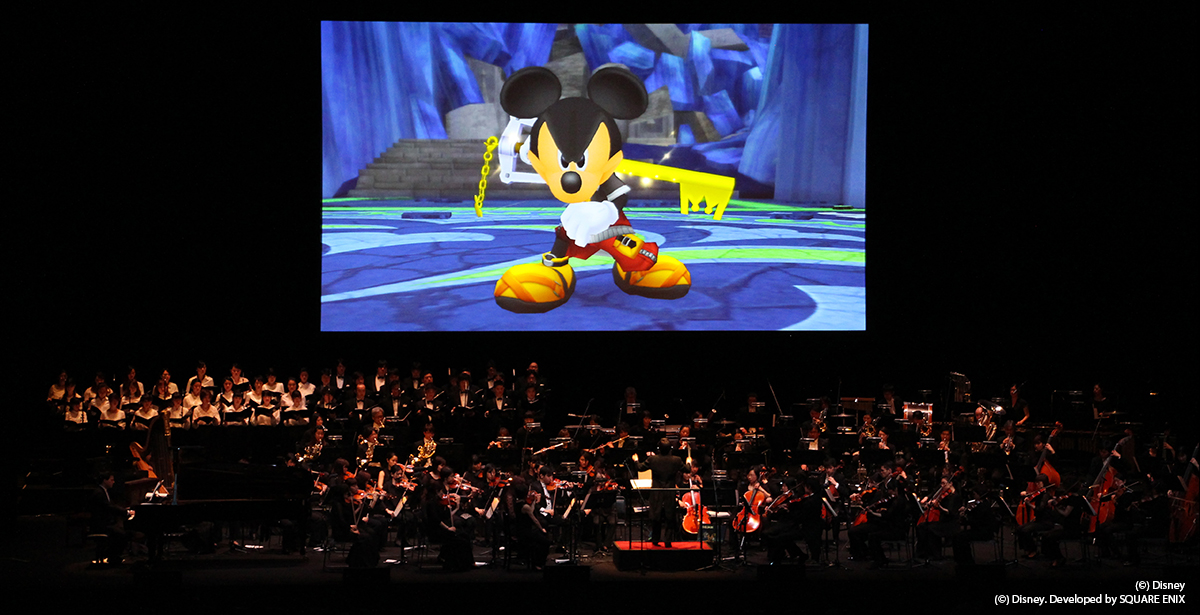 The acclaimed worldwide program that took video game concerts to the next level of quality have been welcomed in prestigious venues such as the Dolby Theatre (USA), the Tokyo International Forum A (Japan), the Esplanade Concert Hall (Singapore), and the Sony Centre (Canada). The 2019 tour will be welcomed by some new venues such as the Palais des Congrès in Paris (France), the Kölner Philharmonie (Germany), the Dr. Phillips Center for the Performing Arts – Walt Disney Theater in Orlando (USA) or the Centennial Hall in Sydney (Australia).

Look out for fan reactions on Twitter: https://twitter.com/KhOrchestra
SCHEDULE AND TICKETING INFORMATION
Tickets will be available for pre-sale purchase in selected cities starting January 30, 2019 at http://shop.wildfaery.com (from 8pm local time of each city).
Public on sale will then start from February 12, 2019.
Check update and latest news at the official Facebook page https://www.facebook.com/KingdomHeartsOrchestra
Tokyo (Japan) – April 27-28, 2019 – International Forum A
Singapore – May 18, 2019 – Esplanade Concert Hall
Chicago (USA) – June 1, 2019 – Auditorium Theatre of Roosevelt University
Los Angeles (USA) – June 8, 2019 – Dolby Theatre
Orlando (USA) – June 22, 2019 – Dr. Phillips Center for the Performing Arts – Walt Disney Theater
New York (USA) – June 28-29, 2019 – United Palace
Toronto (Canada) – July 13, 2019 – Sony Centre
Köln (Germany) – August 24, 2019 – Kölner Philharmonie
Atlanta (USA) – September 14, 2019 – Fox Theatre
Paris (France) – September 28, 2019 – Palais des Congrès
Milan (Italy) – October 5, 2019 – Teatro Arcimboldi
Sydney (Australia) – October 19, 2019 – Sydney Town Hall Centennial Hall
Dallas (USA) – October 26, 2019 - Verizon Theatre at Grand Prairie
São Paulo (Brazil) – November 2, 2019 –Espaçodas Americas
London (United Kingdom) – November 17, 2019 –Eventim Apollo
Buy now at www.eventim.co.uk
Mexico D.F. (Mexico) – November 23, 2019 – Auditorium Blackberry
Buy now at www.ticketmaster.com.mx
Osaka (Japan) – November 30, 2019 – Grand Cube
Sold-Out
Yokohama (Japan) – December 26-27, 2019 – Yokohama Pacifico
Buy now at https://t.pia.jp
ABOUT KINGDOM HEARTS
KINGDOM HEARTS is a series of role-playing games created through the collaboration of Disney and Square Enix. Since the first KINGDOM HEARTS was released in March 2002 for the PlayStation®2 computer entertainment system, the series has expanded with several additional entries. The series celebrated its 15th anniversary in March 2017, and has shipped over 25 million units worldwide.
In KINGDOM HEARTS III, Sora joins forces with Donald Duck and Goofy, two emissaries sent by King Mickey from Disney Castle, to stop the Heartless and fight the Disney villains working with them, like Maleficent, Pete and Hades. Harnessing the power of positivity and friendship, Sora and his friends must overcome tremendous challenges and persevere against the darkness invading their worlds.
Discover KINGDOM HEARTS 3 Final trailer here: https://youtu.be/lz1w_uW3lSE
ABOUT KINGDOM HEARTS Orchestra
KINGDOM HEARTS Orchestra –World of Tres– is an official concert tour of KINGDOM HEARTS music performed by a full orchestra. Game footage on a giant screen accompanies orchestral arrangements, allowing fans to immerse themselves in the story so far. The set list includes popular songs of the series as well as new music from KINGDOM HEARTS III. Following KINGDOM HEARTS Concert –First Breath– (2016) and KINGDOM HEARTS Orchestra –World Tour– (2017–2018), this will be the third official concert of the KINGDOM HEARTS series. This global musical event will kick off in Tokyo in April of this year, with performances in Osaka, North America, Europe, and Asia.

ABOUT DISNEY CONCERTS
Disney Concerts is the concert production and licensing division of Disney Music Group, the music arm of The Walt Disney Company.  Disney Concerts produces concerts and tours, and licenses Disney music and visual content to symphony orchestras and presenters on a worldwide basis.  Disney Concerts' concert packages include a variety of formats, such as "live to picture" film concerts and themed instrumental and vocal compilation concerts, and range from instrumental-only symphonic performances to multimedia productions featuring live vocalists and choir.  Current titles include the Star Wars Film Concert Series (Episodes IV-VII), Beauty and the Beast, The Little Mermaid, Fantasia, Pixar In Concert, The Nightmare Before Christmas, Alice In Wonderland, Frozen, Ratatouille, The Pirates of the Caribbean series (Episodes I-IV), and Silly Symphonies, which last year collectively accounted for over 400 performances in many of the world's top concert venues, including Lincoln Center, Royal Albert Hall, Sydney Opera House, Tokyo Forum and the Hollywood Bowl. Numerous new concert packages and touring productions from Disney's portfolio of studios, including Disney's feature animation and live action studios, Pixar, Lucasfilm and Marvel, are currently in development.  
ABOUT SQUARE ENIX
Square Enix Co., Ltd. develops, publishes, distributes and licenses SQUARE ENIX®, EIDOS® and TAITO® branded entertainment content around the world. The Square Enix group of companies includes a global network of leading development studios and boasts a valuable portfolio of intellectual property, including: FINAL FANTASY®, which has sold over 142 million units worldwide; and DRAGON QUEST®, which has sold over 76 million units worldwide; TOMB RAIDER®, which has sold over 67 million units worldwide; and the legendary SPACE INVADERS®. Square Enix Co., Ltd. is a Japan-based, wholly-owned subsidiary of Square Enix Holdings Co., Ltd.
More information on Square Enix Co., Ltd. can be found at www.square-enix.com
Photos and Visuals: ©Disney
©Disney.Developed by SQUARE ENIX